Squalen publishes original and innovative research to provide readers with the latest research and knowledge on, emerging technologies of marine and fisheries postharvest and biotechnology from tropical waters.
The Journal also publishes review articles by invitation that providing an overview and discussion of the latest developments in topics of specific interest to researchers in this field of activity.
Scope :
1) Marine and fisheries postharvest, preservation and processing, including  mechanization engineering
2) Fish and fishery products quality and safety 
3) Marine ecology and pollution related to fish and fishery products
4) Biodiscovery/marine natural products 
5) Marine biotechnology and bioprocess engineering
  
International Diversity of Editors/Editorial Board: 12 Editors in 8 countries. 
Indonesia (5); Malaysia (1);  United States (1);  Iran (1); Germany (1); Japan (1); Mexico (1); Australia (1).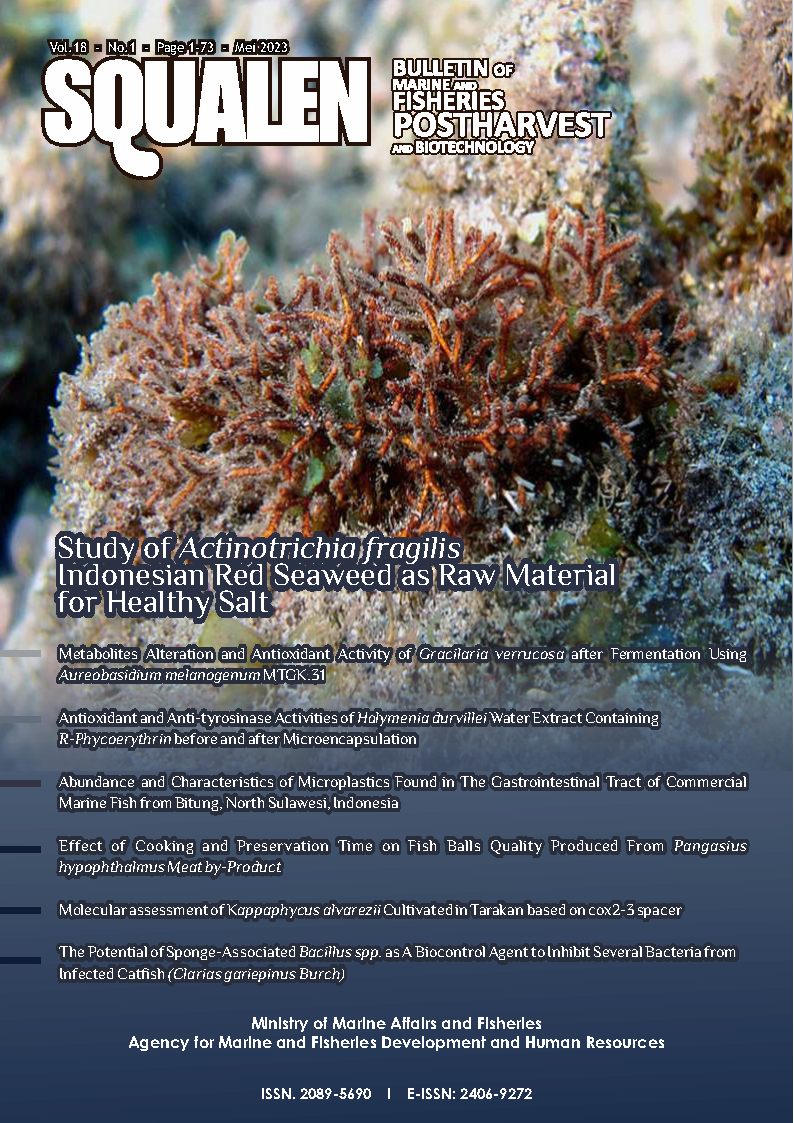 Announcements
Article metrics 2021

Dear colleagues,

Article metrics provide quick information to quantify the impact of published research. We are pleased  to share the following metrics for the articles published in the Squalen Bulletin throughout 2021.

Posted: 2022-03-15
More...

CALL FOR SPECIAL ISSUE PROPOSALS

Squalen Bulletin invites scholars to submit a special issue proposal.  The purpose of the special issue is to provide collection of articles on a specific topic within the scope of marine and fisheries post-harvest and biotechnology that is of high interest to the readers. Squalen Bulletin publishes original research articles and reviews three times a year by the Research Center for Marine and Fisheries Product Processing and Biotechnology, Indonesia. 

Posted: 2021-02-25
More...
Vol 18, No 2 (2023): August 2023
Table of Contents
Articles